Three Americans and a Belgian are suing the state of Israel in Washington, arguing that the violent raid on a US-registered aid ship violated US sovereignty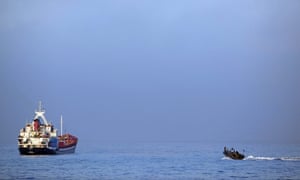 Four activists are attempting to make legal history by arguing that Israel attacked American territory when it raided a US-registered ship which was part of a convoy carrying humanitarian aid to Gaza six years ago.
The group said they were shot with rubber bullets, Tasered and handcuffed by masked commandos during a "terrifying" midnight assault on their vessel, part of a flotilla seeking to break Israel's naval blockade in 2010. One was injured by a stun grenade that exploded one foot from his head, he said, causing permanent partial loss of sight in one eye.
Several legal actions have been launched since the May 2010 incident, in which nine Turkish activists died on the Mavi Marmara ship, but none have succeeded. In 2014, the international criminal court decided not to investigate because the alleged crimes were not considered to be of "sufficient gravity".
However, the four plaintiffs – three US citizens and one from Belgium, who were among 17 people sailing on the small Challenger I – will argue that because they were sailing on an American-registered, American-flagged vessel in neutral waters, they were in American territory. As an infringement of US sovereignty the raid was, in effect, no different from an Israeli raid on Times Square.
"The fact of claiming jurisdiction because it's a US-owned vessel is a novelty and possibly unprecedented," said lawyer Sir Geoffrey Nice, working on the case with London-based law firm Stoke & White. "It you're under a flag it means you're entitled to the protection of the state, and vessels are entitled to protection on the high seas."
The group has filed a civil claim in Washington for damages against the state of Israel. They are seeking compensation for harm and distress, injuries and losses caused by the botched raid. Israel has refused to acknowledge responsibility and liability for the maritime assault and has not paid any compensation to those directly affected.
Huwaida Arraf, 39, one of the plaintiffs, recalled: "At around midnight, the Israelis radioed us and I gave them the information we were asked for: we were unarmed civilians carrying only humanitarian aid, not in Israeli waters, so do not attack us. I repeated it many times. They went quiet for three hours. Then there were helicopters above us."
Israeli navy Zodiac boats caught up with Challenger I and it was boarded by masked commandos, she continued. Arraf, a lawyer and human rights activist who has lived in the Palestinian territories, said she was physically abused by Israeli soldiers who slammed her head against the deck of the ship and stood on it before handcuffing and hooding her.
"I was screaming to them, 'This is an American ship!' There was shooting all over the place and I was afraid a gun would go off in my face. I was dragged and my head was pounded into the boat. They had me handcuffed and hooded and pinned to the deck. They were really rough and I was screaming."
The civil claim states one passenger was shot five times in the back with rubber bullets, and that a soldier forced a passenger's face into broken glass on the desk and then stood on both her head and back. Although the passengers offered no resistance, it says, at least two were Tasered, resulting in burns and vomiting.
Arraf alleged that the Israel defence force confiscated cameras, phones, radio equipment and other personal items as well as humanitarian supplies, none of which was given back. Challenger I itself has never been returned to its American owners and is still being held in Israel.
Describing the motivation for the lawsuit, she said: "It was not only terrifying and very violent but completely unnecessary, the way they attacked us, and someone needs to be held accountable. Israel is never held accountable and is given free rein and there needs to be an end to that.
"It's about sending a message to Israel: it can't continue to do this; it can't act with impunity."
Margriet Deknopper, a Belgian citizen, was shot in the face with a rubber bullet which broke her nose. David Schermerhorn, who suffered permanent eye damage, said: "Basic rights should be recognised and upheld by our US courts. We want those among the Israeli authorities responsible for the attack on Challenger I to be held accountable for their egregious actions. They should not be allowed to attack unarmed civilians with impunity, as well as steal humanitarian aid and personal belongings."
Lawyers for the group have said the case is groundbreaking because it relies on an exception in the Foreign Sovereign Immunities Act (FSIA) to sue a foreign state for serious violations occurring in the US, in this case a US-flagged ship that comes within the reach of US law.
Steven Schneebaum, US counsel for the plaintiffs, posed the question: "Is a vessel flying a US flag in the high seas in the US? There is certainly international authority to suggest yes."
He elaborated: "States are generally immune from suit in United States courts. But that immunity is waived in a number of circumstances. When agents of foreign governments commit wrongful acts in the United States that cause personal injury, and egregious acts against US nationals anywhere in the world, they are not entitled to immunity. We contend that both of those exceptions apply to the facts of this case."
The case could set a legal precedent, he added. "It would show the exception for personal injuries applies on a ship just as it does in Times Square. Secondly, at this moment no court has concluded Israel was responsible for this action."
Professor Ralph Steinhardt, an international law expert at George Washington University and member of the plaintiffs' legal team, said: "Israel is a sovereign state, which gives it certain rights and powers. But that certainly does not include the right to attack a civilian vessel flying the flag of the United States on the high seas and then to assault the civilians on board, including US citizens.
"The attack on Challenger I was a patent violation of international law, including the laws of war, human rights, and the law of the sea. It falls to the courts of the United States to enforce the rules when – as here – Congress has given jurisdiction to those courts. If the situation were reversed, and the United States had attacked an Israeli vessel on the high seas and mistreated the Israeli citizens abroad, the Israeli Foreign States Immunity Law would open Israeli courts to a suit against the United States."
Israel has said it maintains the maritime blockade of Gaza and its 1.8 million residents as a security measure against militant attacks and smuggling. A report on the attack released by the UN Human Rights Council in September 2010 found that "the force used by the Israeli soldiers in intercepting the Challenger 1 … was unnecessary, disproportionate, excessive and inappropriate, and amounted to violations of the right to physical integrity".
The Israeli embassy in Washington did not respond to a request for comment.
• This article was amended on 20 January 2016 to make clear the ship, the Challenger 1 was part of a convoy carrying humanitarian aid to Gaza.
Ref: https://www.theguardian.com/world/2016/jan/12/gaza-activists-lawsuit-israel-attack-flotilla